Staff Friendly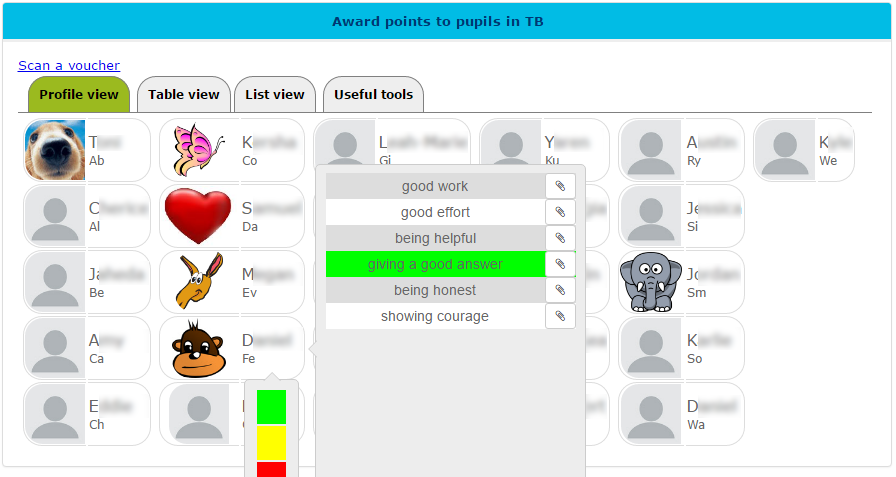 With a large variety of ways to award points, the Pupil Reward Points system is probably one of the easiest reward systems to use. Staff can award points on-screen to an individual or entire class in just a few clicks. Alternatively, staff can use points top-up vouchers. The system can also be setup to allow pupils to record their own achievements.
Recognising a student's achievements no longer requires the student to have remembered their log book or be physically present. Staff no longer need to manually count merits / points because the system does it automatically.
If the teacher does not award points during the lesson, points can be awarded at any time, from any location.
We do everything we can to reduce teacher workload by encouraging feedback from staff acting quickly to make changes and improvements.
"I am enjoying using your new Rewards system as it is a quick visible way of rewarding the positive behaviour of pupils"
"considerably better than any commercial example we have seen"
Monitor Performance
Access any student's achievements at the click of a button. See their performance over time and across subjects. An invaluable resource for meetings and parents evenings.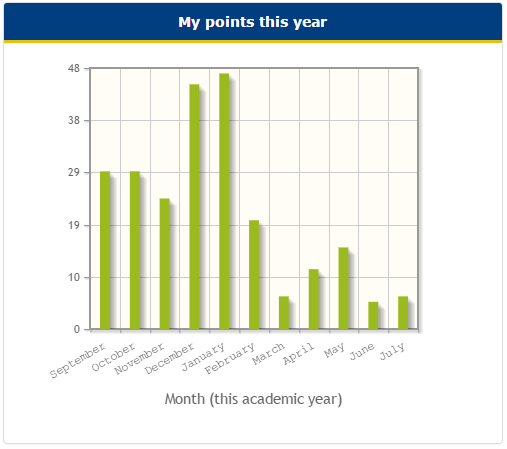 Staff performance can be monitored to ensure consistency.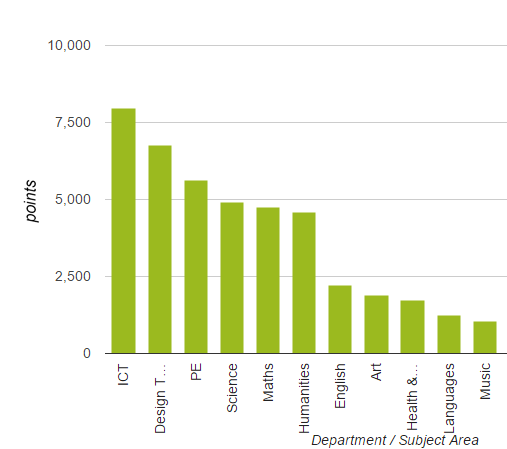 Run Custom Reports
By linking the system to your school's MIS, you can run your own reports to examine points information in relation to gender, SEN groups, EAL, able / gifted / talented, free school meals etc. You can even export the results of reports to CSV / Excel for further analysis.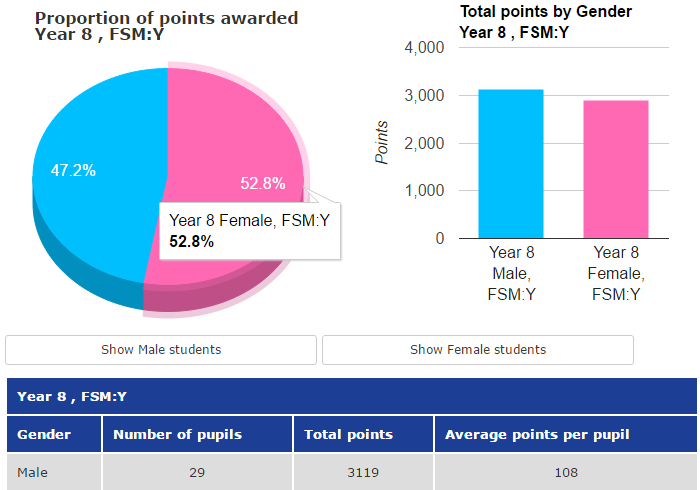 Generate Certificates
At the click of a button, our system can automatically generate a certificate for every student that meets the chosen criteria. For example, highest points this week, month, term, year; or all students with 100 points. Every certificate contains the child's name, your school logo and a space for the date and a signature. As well as our default certificate background, you have the option to use your own certificate background or print without a background, if you have your own pre-printed template.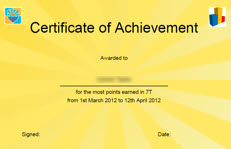 Child Friendly
Pupil Reward Points is updated frequently according to feedback from staff and students. Students using our system told us that they wanted the reward system to appear much more like a social networking website.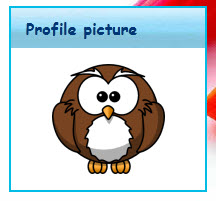 Therefore, they can now add a profile picture, change their background and font, and if allowed by the school, pupils can add friends in order to see each other's points totals. Children cannot communicate with each other via the system unless you specify otherwise.
Pupils can have their own privacy settings to decide whether or not to share details of their achievements with friends, or the school can fix the privacy settings for all pupils.
Pupils can earn online badges for reaching milestones such as saving 500 points, having at least 95% attendance or earning a particular amount of points in an area such as literacy or numeracy. This is fully automated and allows success to be recognised without any input from staff.
Monitor Performance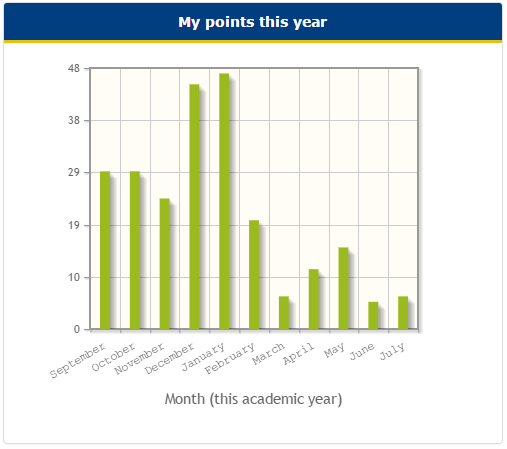 Children can see how many points they are earning over time. This could be useful for conversations between a child and their teacher, or between parents and their children.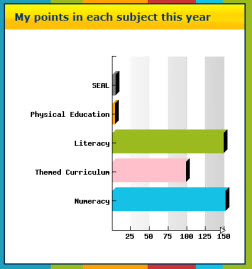 For schools that teach subjects seperately, Pupil Reward Points can allow a child to see how many points they have received in each area. This information can be used to identify a child's strengths and areas for improvement where there is equal opportunity to earn points in each area.
All of the above information about each child can also be seen by staff.
Attendance and Punctuality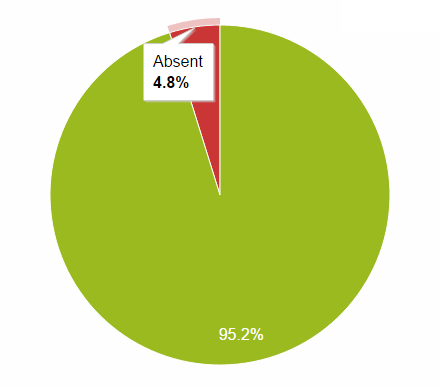 Above: A pupil's personal attendance chart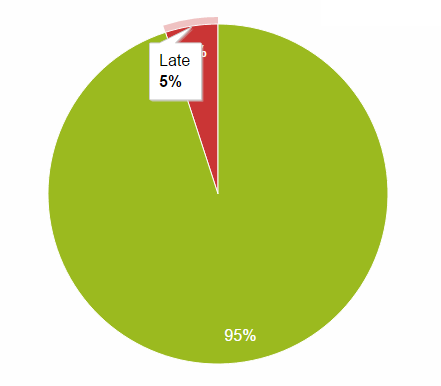 Above: A pupil's personal punctuality chart
Students can see their current attendance and / or punctuality on their homepage, and they can be awarded automatically for their attendance e.g. 1 point per session.
Examine history of Achievements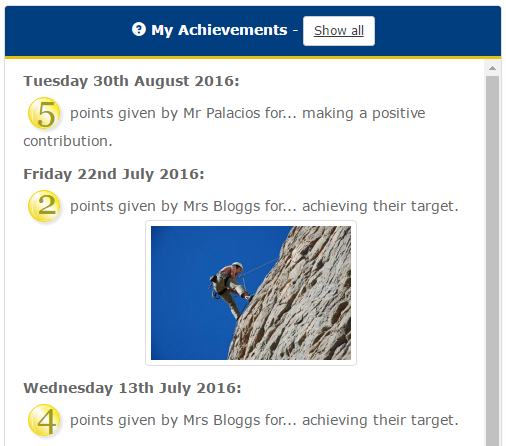 Pupils can see details of every individual achievement they have made over weeks, months and years. This is not only useful for student self-assessments but it is also useful for staff meetings about the student.
"I think the website is better than merits because its so much easier and plus you can go on it at home"
- Year 7 student
"I think this is a really good idea because kids are proberly going to be better behaved and working harder to get more points"
- Year 10 student
Parents are just as important as teachers in encouraging children to succeed at school. If your child's school decides to offer user accounts for parents, they can benefit from the following features:
See your children's achievements anywhere, anytime
Our system can be accessed whenever and wherever you can use the internet. If you can sign in while your children are at school, you can find out what they have been doing and what they have been achieving.
Easy, secure access
You receive one user account for all your children at the same school - the information for each child is displayed on their own tab.
Better communication with your child's school
Find out the names of your children's teachers and contact individual members of staff at using a simple contact form.
Link points to pocket money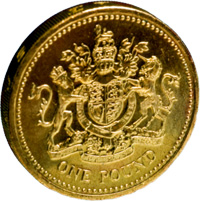 Do you give your child pocket money? If so, you can decide that part or all of your child's pocket money will be based on how many points they earn each week. You can decide how many points equals a penny or a pound. Our system will then inform you how much they have earned at the end of the week.
We believe that it is important to teach children that there is a link between hard work and financial gain; that is the nature of the society in which we live.
Parents Evenings just got easier
Schools using our parents evening module can offer parents the ability to book appointments directly with their child's teachers via their Pupil Reward Points parent account. Children can often forget to make an appointment or if they do not like the lesson, they may avoid booking an appointment altogether. Unfortunately, these lessons are often where problems may arise and so these appointments are the most important.
Our system can remove this potential problem and benefit schools by allowing them to record who attends.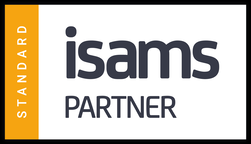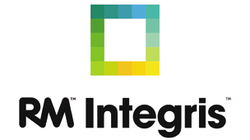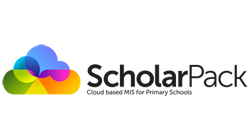 System setup and deployment
Implementing a "Pupil Reward Points" system is relatively straightforward because we can do most of the work for you. This includes setting up student and staff user accounts and customising it to meet your school requirements.
If your school would like our system to read from your MIS (SIMS, Integris, iSAMS etc.), we can set up that too. We support GroupCall Xporter-on-demand for transfering MIS data, which your school may already use for other third party systems.
Experience tells us that in most schools, network managers and IT technicians will be responsible for managing user accounts, which includes resetting passwords. So in order to make your life easier, we support a variety of single sign-on options such as Office 365, Google and Active Directory integration. This means that students and staff can sign into our website using an existing username and password.
Accessing multiple systems can become tedious, which is why we offer an automatic sign in tool. Staff / students just click a desktop icon, which opens their web browser and signs into the reward system automatically.
For more information on any of the above features, please contact us.
Data security / GDPR
We take data security very seriously and comply with all relevant legislation such as the Data Protection Act and have adopted GDPR compliant processes. For example, during set up, we will provide a data sharing agreement so it is clear what data we use and how we use it. For more information, you are welcome to download our Data Protection Policy.
As used by...
Acre Rigg Academy
Atwood Primary Academy
Barcroft Primary School
Beauchamp Middle School
Bishop Alexander Academy
Blakenall Heath Junior School
Bradley Barton Primary
Burnt Oak Primary

Craven Primary Academy

Crookesbroom Primary Academy
Delce Academy
Edna G Olds Academy
England Lane Academy
Estcourt Primary Academy
Glapton Academy
Greenleys Junior School
Greenway Academy
Hogarth Academy
Huntingdon Primary Academy
Jubilee Academy
Kingston Park Primary
Lancot School

Millfield Academy
Netherfield Primary School
Newnham Junior School

Pheasant Bank Academy

Radford Academy
Serlby Park Academy
St Adrian's Catholic Primary School

St Ann's Well Academy
St Augustines Primary School
St George's Catholic Voluntary Academy

St Leonard's CofE Primary School
Sycamore Academy
The Parks Academy
Thomas Barnes Primary School
Thorpe Park Primary School

Warren Primary Academy
Weelsby Academy
Windmill Academy